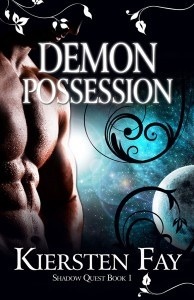 My Rating: 5/5
First book in Shadow Quest
Short Summary: Analia was a slave on the spaceship, Extarga, before she escaped onto a merchant ship piloted by demons. She has no memory of who she is or where she comes from. The only thing she knows about herself is the secret power she possesses. Analia is stuck on this new ship, and must adjust to her new environment, as well as her building, erotic desire for the handsome demon, Sebastian.
My Review: Reviewed on Goodreads/Amazon.
I love love love this book! Wow!! I can say without a doubt that this book is ten times sexier, hotter, and action packed than all three of the Fifty Shades of Grey books. I know they are two different types of books, but this one beats any erotic romance I've ever read. After starting to read different types of science fiction books, I decided to pick up this paranormal romance e-book that was free one weekend on Amazon. Since then, I've purchased the next two books that follow, and look forward to the release of the fourth, Demon Untamed.
I was hooked from the first page of this book. The story starts right in the middle of Analia's escape, and keeps your heart beat racing until she arrives on Sebastian's ship—then the sexual tension makes it beat even faster! Analia is my favorite character in this book. She comes off as a shy, innocent, and naive girl, but she has some major power up her sleeve that gives her some strong characteristics. My only problem with this series is the dominance that the men constantly have over the women. It's cute at times, sexy at other times, but since it is repetitive in all of the books it does get a little old.  Overall, I gave this book five stars because I've never read a series that could keep me blushing with every turn of the page.
I downloaded this book one weekend when it was free online. However, I loved it so much that I bought the paperback version of it as well.
♥

My Rating: 5/5
Book #2 in the Shadow Quest series
Short Summary: Marik Radkov, one of Sebastian's crew, is stranded on a frozen planet until his friends are able to come back and rescue him. He is being held captive by the beautiful Princess Nadua, who must eventually decide if she can trust the handsome demon when her military force turns on her.
My Review: Another hott, sexy paranormal romance by Kiersten Fay! This time it's Marik and Princess Nadua's turn to steam up the icy planet that they are stranded on. Their relationship grows in Demon Slave, as well as the relationship Nadua creates with her long-lost younger sister.
I'm not easily flustered by romance stories, but this series has yet to fail to make me blush. I was surprised that the author didn't run out of descriptive ways to express the characters' intimate relationships with each other. To put it in simpler terms, she didn't have to repeat sex scenes, and kept the romance beautiful with each new relationship.
♥
(oops…book 3 is missing. stay tuned for updates)

My Rating: 2/5 Stars
Fourth book in the Shadow Quest series
Short Summary: Ethan and Sonya's love/hate relationship is brought to us again by a re-telling of Demon Retribution. The story is told from Ethan and Sonya's perspectives.
My Review: It's heartbreaking to say that I could only give this book 2 stars. While I absolutely love the author, the books, the characters, and the events in each of the stories, I couldn't bring myself to love this one. The main reason being, like many other devoted Demon readers, is because this story is exactly the same as the last one. It's just a re-telling. While I understand that it's from a different perspective, and may shed light on events that we might have missed, it wasn't what I, as a fan, wanted to read about. There was nothing wrong with the story itself. Like I said, I love everything about this series, but it was a disappointment to wait so long and pay money for a re-telling of the previous book. I would have hoped that the re-telling, if any, would have been written differently, but what's done is done. I would have much rather the series continue where the last book left off, with the telling of Sonya and Ethan's relationships, adding flashbacks if necessary to express their love/hate relationship.
If you go back and read my review of the third book, here or on Goodreads, you'll know that I was already upset at certain things in Demon Retribution. My idea for the start of this book would have been for it to start off right in the middle of the last battle scene, examine Ethan's sacrifice, and then proceed with new events and dangers after everyone is reunited. I was really hoping that this book would pick back up where that left off, and maybe introduce us to new characters, possibly kill off some favorite characters, and create a new series of events. At least then the current characters and their stories could fade off gently into something new. If the books stop following the sisters and their demons, I really hope that it doesn't end with this book. I will be sorely disappointed if this is all the steamy romance that we see from Sonya and Ethan.
On a good note, I did see where the author said she may try to write more about the dragons, telling their tale, so that could be something to look forward too.
In my honest opinion, I would not waste the money on this part of the series, unless you just want to buy the book for its gorgeous cover. If I had known what to expect I wouldn't have bought it. However, I'm also a die-hard fan of the series and might have to buy the paper version of it just to say I own it. If you didn't like this book, don't give up on the series all together. It's amazing. I will continue to read anything that Kiersten Fay writes, especially if it continues the Shadow Quest series.
I bought this book for my own enjoyment